Published: Tuesday, 04 October 2016 08:33, Written by International Hologram Mfrs. Assn.
New £5 banknote is made from durable flexible polymer.
The advent of the new plastic £5 banknote is as an "exciting opportunity" that showcases leading edge development in security devices for currency applications, says the trade body for the global hologram industry. The International Hologram Manufacturers Assn. (IHMA) was welcoming the new £5 note, which will be made from a hardwearing and durable polymer and enters circulation this September after a period of public consultation.
The IHMA is also looking forward to the new £10 and £20 notes that will follow as the old cotton fibre and linen rag banknotes are removed from circulation and destroyed.
The polymer editions are made from a thin, transparent, and flexible film made of polypropylene that's coated with a lacquer layer to enable them to carry the printed design features of the banknote. This will allow the inclusion of windows or clear portions in the design, used to provide enhanced protection and featuring holograms for verification and anti-counterfeiting purposes.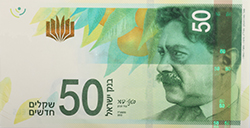 The IHMA says that other countries, including Canada, New Zealand, Romania, and Vietnam, have been using polymer banknotes featuring holograms for years. So, as the UK adopts banknotes featuring the same technology, then the move has to be seen as another example of how holography continues to evolve as the leading security feature for notes.
Holograms have featured successfully on banknotes since 1987 and have progressed since from simple patches to complex stripes as integral design and print features on notes. Today, the annual global volume of banknotes produced is in excess of 125 billion*, so the reward for hologram producers capable of providing the technology to overcome the technical challenges is potentially highly lucrative.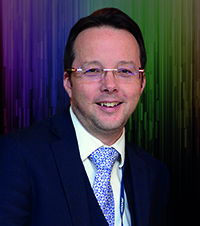 Dr. Mark Deakes, general secretary of the IHMA, says the new £5 opens an exciting new chapter for security holograms. He said, "Holography is an effective weapon in the battle to thwart banknote counterfeiters, continually evolving as an effective first line of defense feature for modern banknotes.
"The new £5 note is a great example of this evolution and illustrates some of the best and most technically innovative holograms on banknotes, which combine with other features to deliver value added solutions.
"Polymer substrates, like their paper counterparts, are now benefitting from this type of technology. The Bank of England is now among those leading the way with banknotes that combine improved durability and the best in modern hologram technology."
The success of holograms for both polymer and paper banknotes has been down to their role as a level one security feature that's instantly recognizable — the technology remains to the fore as part of an array of overt features. These make it easy for not only the general public but also cashiers and those operating cash tills in stores, to recognize whether or not a banknote is bonafide.
Increasing adoption of holography on banknotes reinforces the hologram's position as a pre-eminent security feature in the global anti-counterfeiting fight.
The use of sophisticated anti-counterfeiting features means that the banknotes are more secure because they include a larger area for holograms to be featured – New Zealand was among the countries that reported a fall in counterfeiting after it introduced new hologram banknotes.
The IHMA is made up of 100 of the world's leading hologram companies. IHMA members are the leading producers and converters of holograms for banknote security, anti-counterfeiting, brand protection, packaging, graphics, and other commercial applications around the world. IHMA member companies actively cooperate to maintain the highest professional, security and quality standards.
* The Holo-pack·Holo-print Industry Study