Published: October 01, 2007
Experience Speaks
How did you get into the converting business?
By accident. My first job out of college was installing and training on specialized graphic art cameras designed for package printing. From there I moved into sales of prepress equipment and finally printing presses. This background gave me experience in packaging production. Once I got into packaging, I never got out.
Describe your management style.
I lead by example and empower others to take ownership and make decisions.
Are there specific challenges in your region to finding good employees?
Finding good people is always a challenge. That's why we work hard to create an atmosphere of mutual respect and pride.
What is the biggest threat to the converting industry right now?
Rising raw material costs are a challenge. In this competitive market, it is tough to pass along the increases because increased materials costs do not represent increased value to the customer.
What is the best advice you ever got?
Follow your dream; you only live once.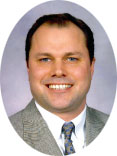 What is the worst advice you ever got?
I don't remember, probably because I didn't listen to it.
What keeps you up at night with regard to your business?
Managing your resources while deploying the right mix of investments in technology and talent can be a high-wire balancing act. I wouldn't say it keeps me up at night, but it does get my full attention.
What is the key to growing a business in a bad economy?
Developing strategic relationships with customers and suppliers is a good start. Look closely at what your customer values, and make sure there are no gaps between what they value and what you expect them to pay for.
How do you handle a difficult customer?
A difficult customer doesn't just happen. Usually there is a miscommunication somewhere, and that leads to an expectation that is not met. We do everything we can to prevent these kinds of issues. Should one occur, we empathize with our customer and remain focused on maintaining a respectful working relationship. Things happen. When they do, fix the problem.
What do you know now that you wish you had known when you started out?
There are no shortcuts here. You just have to live it and turn it into practical experience. I can honestly say that every day there is something new to learn.
What are you most proud of in your business?
Three simultaneous outcomes: happy customers, happy employees, and happy shareholders.
Do you have a personal hero?
Michael Jordan. He's a fierce competitor with class.
---
About Eagle Flexible Packaging

1300 W. Washington St., West Chicago, IL 60185
Founded 1994; 1 plant
Specialty | Flex-pack; package and label development; materials and ink testing

---