Published: September 01, 2007, By Edited by Claudia Hine, Managing Editor
Green Converting
Alfred Fielding and Marc Chavannes may not be household names. However, their invention of Bubble Wrap in the 1960s landed them in the New Jersey Inventors Hall of Fame and was the start of Sealed Air Corp.
With more than 100 facilities worldwide, the company manufactures a variety of products, including Cryovac fresh food packaging and other lightweight materials for protective packaging that save energy by reducing freight.
According to Ricky Bryant, senior facilities engineer at the company's Duncan, SC, location, Sealed Air puts great emphasis on saving energy and improving environmental performance in its operations. So it's not surprising that a trade magazine article detailing how a company achieved substantial electric power and cost savings attracted considerable interest at Sealed Air headquarters.
"The article described how a company really cut their energy costs by changing to lighting made by Orion Energy Systems," Bryant says. "Sure, we were interested in reducing costs, but we also knew that anything that reduces power consumption benefits the environment."
Due Diligence
To facilitate its own test, Sealed Air purchased Orion compact, modular T8 Series high-intensity fluorescent (HIF) fixtures and measured energy consumption and operating costs against metal halide lighting. After three months, Sealed Air found its savings to be on par with the company featured in the article. "The interesting thing was that during our three-month test period, quite a number of people who came to the headquarters for other purposes had a chance to see the lighting fixtures and assess the test while it was in progress," adds Bryant. "That stirred up a lot of interest, especially from our people working in plants in areas where the electric rates are higher, like California."
Following the test period, the decision was made to retrofit the facility with the HIF fixtures from Orion.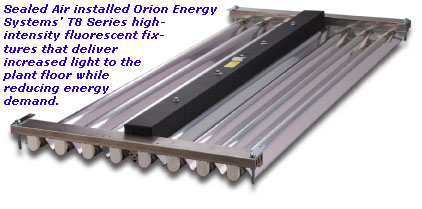 All told, the packaging systems and materials manager replaced forty 1,000-W metal halide lights with 80 eight-lamp HIF fixtures. Lighting power consumption had been projected to fall from a pre-retrofit 334,846 kilowatt-hrs (kWh) per year to 174,350, a 48% drop, with power bills dropping accordingly.
"Of course, we've thoroughly enjoyed the energy savings," Bryant says. He adds he was confident the cost and energy usage projections had been met, although this could not be determined precisely because the plant's electrical system did not separate the lighting, which is why the test had been necessary.
The Real Benefits
Bryant says another somewhat unforeseen benefit of the new lighting is the overwhelmingly positive reaction from employees. "Our workers really like the brighter, whiter light. The older metal halides were degraded, had a yellow tinge, and were not very bright. That lighting system gave us readings in the 20-foot-candle range, but now the average is above 60 foot-candles. "In the warehouse, they occasionally used to boost someone with a forklift to read labels. They don't have to do that any more. And some workers have said they feel better just getting into the light."
On the environmental front, it is estimated the company will save 160,496 kWh each year, which means 256 tons of greenhouse gases will not be released into the atmosphere. The reduction in energy demand also has the air-scrubbing equivalent of a 29-acre forest or removing 26 cars from the road and the conservation equivalent of saving 13,249 gal of gasoline/yr.
Bryant says as a result of this experience, some 15 Sealed Air plants have since been retrofitted with Orion lighting and another 9-12 facilities are set to be retrofitted soon.
"Our typical payback time on other projects has been running two to three years, unless a utility incentive or rebate shortens it," Bryant says. "But with this project, our payback period was only about a year and a half."
As such a forward-thinking converter, it's no surprise Sealed Air Corp. was recognized by the Inst. of Packaging Professionals as the 1998 "Packaging Leader of the Year."
---
CONVERTER INFO:
Sealed Air Corp. | 100 Rogers Bridge Rd., Duncan, SC 29334 | 800-391-5645 | sealedair.com.
SUPPLIER INFO: