Published: October 31, 2005, By Edited by Deborah Donberg
Narrow Web Converting Industry News
FINAT Competition Turns 25
the hague, Netherlands—It's been 25 years since FINAT started its International Label Competition, and the entries (and winners, of course) just keep getting better.
The annual competition focuses on the technical excellence of entries as well as the role they play in serving the needs of their product market segments. Entries are judged by a panel of print and marketing experts in group categories: marketing and end use; print and converting; labels promoting individual label printers' own capabilities and developing alternatives to commercial self-adhesive label printing on a narrow web press; and excellence in innovative applications within the label industry. Judges chose 17 winners out of 250 entries.
The Group Award for overall excellence went to Greco Label-Aris Nicoltsoudis SA of Greece (also a winner for the best rotary letterpress work). The award-winning labels for jars of Kalamata olives were printed on a Gallus R160B in four process colors, using Sicpa UV letterpress inks on Fasson Gloss self-adhesive paper.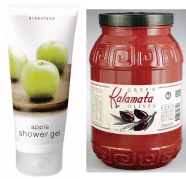 In the marketing and end-use category, the Group Award went to Kolibri Etikettenfabriek for self-adhesive labels on squeeze tubes used by Greenland, a leading Netherlands body care products manufacturer, for its 100% natural Fruit Extracts shower gels. The perfect reproduction of the label design was achieved in a single pass through Kolibri's ILMA 340MP press using four-color process rotary letterpress with UV flexo varnishing for extra protection. Label stock is Fasson's PE85 White self-adhesive PE label stock, and inks are from Sun Chemical. The labels also were awarded the marketing/end-use prize for best cosmetics labels.
In celebration of its 25th anniversary, FINAT also bestowed a special Silver Jubilee Award on Helmut Schreiner, chairman and CEO of the Schreiner Group, for the company's outstanding progressive use of technology.
The awards were presented during the FINAT World Congress held in Baveno, Italy, in June. For more information, including a complete list of winners, visit finat.com.
---
Labelexpo Europe's Silver Year
brussels, belgium—Labelexpo Europe also marked its silver anniversary in 2005, welcoming 500 exhibitors and more than 23,000 visitors from 110 countries. Highlights of the show, which was held in Brussels September 21–24, included a Smart Labels Pavilion and dedicated Smart Labels seminar day and a seminar program that featured Masterclasses for brand owners and end-users.
At the Label Industry Global Awards, Lars Eriksen of Nilpeter A/S was honored with the R. Stanton Avery Lifetime Achievement Award; Gallus took the award for Continuous Innovation; Skanem won the European Converter Award for Continuous Innovation; and MPS was announced as winner for New Innovation.
Show producer Tarsus Group reports much business was done on the show floor, with estimates of the value of label presses sold exceeding ,350 million. Tarsus says Nilpeter sold 42 presses, Labelmen sold 22, and HP Indigo sold 17. For more information visit tarsus-group.com.
---
Tape Training Center Opens
charlotte, nc—The "tesa Knowledge Center," a new facility intended as a training site for tesa tape employees and customers, is officially open. The facility joins the company's many training sites already in place around the world.
It will be located in Sparta, MI, at the company's North American manufacturing facility. All programs offered there will encompass three components: practical tape application demonstrations and training; analytical and physical testing of tapes; and an overview of the tape manufacturing process.
In the center's initial phase, customers and employees can choose among ten course topics. Modules can be tailor-made and bundled to fit changing market requirements.
Digital Alliance Formed
steinebrunn, switzerland—GRE Engineering announces a strategic alliance between its Digital Solutions Div. and Impika, headquartered in Aubagne, France.
Says GRE's Dr. Jules Farkas, "We have been looking for a UV color inkjet partner for some time to expand our range of products. We are confident the IPS C-9000 inkjet technology from Impika will arm us with a tool that will help today's label printers to operate and profit more effectively in a highly competitive market.…"
---
EPC Solutions Agreement
dallas, tx—Texas Instruments (TI) and Moore Wallace, an RR Donnelley co., Chicago, IL, report a multi-year strategic agreement to offer Electronic Product Code (EPC) Generation 2 (Gen 2) smart label solutions.
Under the terms of the agreement, TI will be a primary supplier of ultra-high-frequency EPC Gen 2 tag technology to label converter Moore Wallace, who will provide EPC Gen 2 finished labels to the consumer products goods, manufacturing, and pharmaceutical companies implementing RFID for supply chain applications.
Moore Wallace will support the manufacture of more than 500 million EPC labels annually in multiple facilities.
---
HP Program at RIT Grows
palo alto, ca—The six-year-old HP Indigo media certification program at the Rochester Inst. of Technology (RIT) Printing Applications Laboratory has been expanded to become the Worldwide Media Center for evaluation media used on HP Indigo digital presses. As part of the expansion, RIT has installed a new HP Indigo press 5000 and a new HP Indigo press ws4050 to expand its testing capabilities.
Says Bill Garno, director of the RIT Printing Applications Laboratory, "The new presses are an expansion of the services we have been proud to deliver to HP as well as its media suppliers. The range of papers you can successfully print on HP Indigo equipment is significant, and it continues to grow. Today, the majority of the papers RIT certifies are not Sapphire coated. Paper manufacturers are finding new ways to optimize their products for HP Indigo presses."
---
Interface Aids Thermal Printing
milwaukee, wi—Tailored Solutions reports its Label Traxx print business management software for flexo narrow web label printers and converters now interfaces directly with NiceLabel, the thermal printing software offered by Niceware Intl. As a result, Label Traxx customers now can print labels on any thermal printer easily, the company reports.
---
Software Line Expands
new york, ny—HumanEyes 3D has expanded its PrintPro special effects/lenticular software portfolio to provide a range of options and pricing supporting broader printing and prepress market segments.
The company says the software generates lenticular effects such as high quality flip and morph, as well as natural, highly realistic photographic 3D. Each version of the software in the expanded product line is tailored to more closely correspond to the variety of graphic arts applications and print output technologies.
---
---
PEOPLE & PLACES
Bert Berkley, chairman of Tension Envelope Corp., is named chairman of the Global Envelope Alliance of the Envelope Mfrs. Assn. (EMA), Alexandria. VA. The EMA's Foundation for Paper-Based Communication selects the Washington office of GolinHarris to lead a national initiative to position and promote envelopes and the paper-based communications positively.
At InkSure Technologies, Fort Lauderdale, FL, Professors Amnon Yogev and Amir Boag join the outside Advisory Board for the development and implementation of the company's RFID technology.
WS Packaging Group, Algoma, WI, has purchased the assets of Ampersand Label, Garden Grove, CA. Ampersand now will be known as WS Packaging Group—Ampersand Label.
---