Published: July 31, 2005, By PFFC staff
On the Move…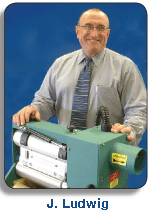 Enercon Industries Corp., Menomonee Falls, WI, names Jim Ludwig narrow web surface treating sales manager.

NDC Infrared Engineering, Irwindale, CA, expands operations with a new office in India. Pravin Kulkarni will serve as country manager for NDC India at 7A/12, Paschimanagari, Survey 21, Kothrud, Pune 411 029, India; +91 20 2543 5768.
The converting industry has lost three members in a short period of time: Comexi, Girona, Spain, reports the death of founder Manel Xifra Boada. Walter Frederick Bachelder, former chairman of Testing Machines Inc., Ronkonkoma, NY, passed away May 9 of heart failure. He was 86. H. Howard Flint II, chairman and retired CEO of Flint Ink Corp., Ann Arbor, MI, passed away June 14 after a brief illness. He was 66.
Stanford Products, Salem, IL, establishes five new sales agencies in Mexico, Venezuela, Peru, Brazil, and Argentina and Uruguay. Visit stanfordproductsllc.com for details.

At Praxair Surface Technologies, Ulrich Buckmann is named business development manager for the global printing business; Randy Davidson becomes sales representative for the North American printing business in Wisconsin, Minnesota, upper peninsula of Michigan, North Dakota, and South Dakota. Praxair also reports it is named Gold 2005 Supplier of the Year by the print members of the European Flexographic Technical Assn.
Brandtjen & Kluge, St. Croix Falls, WI, hires Bruce Kessler as sales manager for the western US and British Columbia and Alberta, Canada.

Steve James joins the North American sales team of Prime UV Systems, Carol Stream, IL, as southeastern regional sales manager.
AccuWeb, Madison, WI, signs an agency agreement with UEC Intl., which will cover Colombia, Ecuador, Peru, and Chile.
Mohawk Paper Mills, Cohoes, NY, names Tom Senneff district sales manager for the south central region and Bart Robinson manager, channel development.

ISO Poly Films, Gray Court, SC, hires Brett Eager as plant manager.
The Flexographic Technical Assn., Ronkonkoma, NY, is awarded the 2005 Trade Assn. Environmental Leadership Award given by the National Steering Committee of the State Small Business Ombudsman/Small Business Assistance Programs, in conjunction with the national compliance Advisory Panel. Also receiving the award are the Specialty Graphic Imaging Assn. and the Printing Industries of America/Graphic Arts Technical Foundation.
Toray Plastics, North Kingstown, RI, is named 2004 "Supplier of the Year" by Frito-Lay, a div. of PepsiCo.
---