Published: August 31, 2004, By Edited by Carrie Cleaveland
Covering the Full Spectrum of Industry News, Events & Activities
Reclosable Retort Package Comes to America
Blue Star Food Products, Burlingame, CA, USA, selected the 1-lb Zip'n Store, a reclosable pouch developed by Pyramid Flexible Packaging, Chicago, IL, USA, in alliance with Presto Products, Appleton, WI, USA, for six varieties of its handpicked crabmeat, reportedly making it the first national brand to bring reclosable retort packaging to America.
The Zip'n Store pouch is said to deliver the benefits of retort packaging with the additional advantage of an exclusive zipper design that allows commercial customers and individual consumers to use only the amount of product they need.
The package can be used in the microwave and as a boil-in bag for cooking and reheating food products right inside the package, reducing cooking time.
---
---
Third Line's a Charm
Blown film processor Danafilms, Westborough, MA, USA, operates two plants: a 40,000-sq-ft facility with 15 lines in Westborough and a 50,000-sq-ft site with three lines in Franklin, KY, USA.
While the Westborough equipment comes from different machinery makers, the Franklin plant has just one supplier, Battenfeld Gloucester Engineering, a div. of the SMS Plastics Technology Group. Two lines were installed originally, and a third was added recently.
"What we look for is equipment that will help us produce nice flat rolls with good gauge control," says Danafilms' VP Allen Simoncini. "We think Battenfeld Gloucester does that for us." Simoncini also notes that with Battenfeld Gloucester lines, the company routinely extrudes film with gauge variation roughly one-half the industry average. The lines also are said to improve Danafilms' ability to maintain quality when producing wide- and large-diameter rolls; Danafilms can wind 42-in.-dia rolls and, with a 22-in. die, achieve layflat widths of 70–90 in.
Supplier Information
Battenfeld Gloucester —bge.battenfeld.com
---
---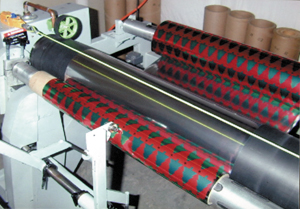 Custom Slitter Solves Worst Problems
As a growing converter specializing in lamination, GiftMaker Systems recently purchased Contech's SSR surface slitter/rewinder to address converting challenges.
"At a trade show, we took the worst set of materials that gave us the most problems to Contech," explains Tim Canning, technical sales and engineering director for GiftMaker. "I was struck by their willingness to produce a custom piece of equipment to do the job, well within my price range."
The SSR surface slitter/rewinder is designed to convert 36-in.-wide rolls, 10,000 lineal ft/roll, at up to 250 fpm. Features are said to include durable steel construction, low-tension brake control, and roll change capability of 4–5 min.
Supplier Information
Contech —contech-usa.com.
---
---
Gestel Adds MIS to Boxmaking Division
Gestel Holding Co., a supplier of qualitative, high-end packaging material, has implemented a DiMS! Management Information Solution at its boxmaking facility in Eindhoven, the Netherlands.
Gestel project manager Reimer Reinalda reports the company has worked satisfactorily with DiMS! for years, utilizing the system at its main printing division. Wanting "one system for the whole group," Gestel chose DiMS! for the boxmaking plant, and the results have been positive.
"Because of the direct connection between both companies, we have an up-to-date view — whenever and wherever — of the stock level, what is in production at that moment, and what still has to be produced." He adds, "All the information can be processed much quicker."
Supplier Information
DiMS! —dims.net.
---
---
Managing Envelope Production
Eagle Envelopes Ltd. recently ordered a PrintMaster MIS system from Imprint Business Systems Ltd. for its Walsall, West Midlands, UK, envelope manufacturing operation.
Ordered during PIRA MIS 2004, the system comprises contact management and sales/marketing modules at the front end with a document generator to control designs and layout of company documentation.
Imprint's industry-specific system for envelope manufacture includes an estimating module that can output directly from screen fax and e-mail and receive inquiries from a Web site. The system incorporates sales order processing and reporting to provide quick access to management information with facilities for spreadsheets and graphics.
"We conducted a thorough study of the available MIS systems," says Iain Cormack, finance director of Eagle Envelopes, "and after seeing an in-depth demonstration, we opted for the Imprint system. Because of the constant pressure on margins, shorter runs, and JIT delivery demands, we realized we must do as much as possible to drive out costs and manage our workflow from sales contact management through invoicing. The Imprint MIS system is exactly designed to meet our factory management needs. Although initially targeted for our Walsall facility, we plan on linking the system to our other UK and Ireland envelope production plants next year."
Supplier Information
Imprint Business Systems —imprint-mis.co.uk.
---
---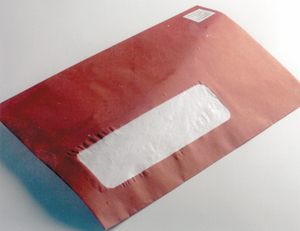 Tips for Top Envelope Windows
When the PS film used in envelope windows puckers or warps, envelopes may be unfit for the bar code readability standards required by the US Postal Service's MERLIN system.
A leading cause of pucker and warp in PS films used for envelope windows is moisture in the paper, a problem that doesn't reveal itself until after a run is completed. Another contributing factor to pucker and warp can be the envelope window adhesive.
National Adhesives offers the following tips:
Avoid "shocking" the paper. "Paper shock" often is caused when a very fast drying window gum, such as those used for tough applications and high-speed machines, is applied to paper low in moisture content. Newer window gum technology can provide both high tack and adhesion in combination with slower drying speed that will not shock the paper.
Protect paper and envelopes from excessive moisture or dryness. Both should be stored in a climate-controlled environment. Paper rolls should be wrapped. Envelopes should be boxed and in cartons, then stacked on dry pallets before being stretch-wrapped.
Don't over-apply window gum. It should be metered to the minimum thickness that will provide the needed tack and adhesion at full production speeds.
Make sure the metering roller is not out of round. A metering roller that is out of round will have high and low spots, leading to an excessive amount of window gum being applied on the low spots.
Replace worn gummers. They will not apply the desired smooth and consistent pattern of window gum.
Use an envelope window gum with good layflat properties. Not all window gums are the same. Make sure you are using one that won't cause warping or puckering
Supplier Information
National Adhesives —nationalstarch.com
---
---