Published: September 25, 2017
CERRITOS, CA | Arconvert U.S. will launch the latest additions to their flagship Manter and Adhoc product lines at this week's Labelexpo Europe. Company says the Black Label Creative Club which has a mission to inspire and connect the diverse facets of the creative labeling community. In conjunction with this initiative, the company will exhibit an exclusive selection of labeling applications from around the world.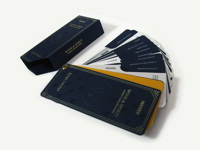 Arconvert's latest collection—Organic, The Nature Label Collection—features an earthy character. Based on natural shades and colors, the products in this series are said to provide expressive warmth and texture.
Also featured will be a new offering of Manter labels for the cosmetic sector and a new sample book illustrating them. The label materials in this offering reportedly infuse every product with elegance and luxury.
Rounding out their new developments, the company will feature their Wine & Spirits Label Collection, a new swatchbook created specifically for the North American market. This swatchbook features more than 100 different Manter self-adhesive labels, said to be a treasury of texture and colors that opens up many possibilities for premium label printing.
This email address is being protected from spambots. You need JavaScript enabled to view it.