Published: July 31, 2017
BERGISCH GLADBACH, GERMANY | Zanders, a manufacturer of speciality papers and boards developed especially for labels, packaging, and graphical applications, will be showing off its Chromolux label range at Labelexpo Europe 2017, September 25–28, at the Brussels Expo in Brussels, Belgium.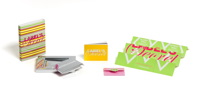 The company will be offering a sample box entitled "Label's Secret" featuring 30 Chromolux labels of different prints and finishes, including flawless smoothness to adulating mother of pearl effects to shining, aluminium imprints.
Also on display will be Zanlabel gloss and Zanlabel touch, both said to provide excellent printing results.
This email address is being protected from spambots. You need JavaScript enabled to view it.