Published: September 24, 2013
MISSISSAUGA, ON, CANADA | Future Design, a Gloucester Engineering co., has introduced a newly redesigned universal Saturn Manual Perfect Balance (MPB) air rings. The upgrade is said to be in response to recent changes in materials, material combinations, and processing parameters in the blown film industry.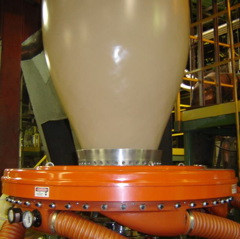 Among the reported benefits are improved width control, bubble stability, finished roll geometry, and faster running speeds. Rings are designed to enable operators to manipulate airflow manually to desired points, increase low thickness areas, and reduce high thickness areas to improve the yield of high quality film. The MPB works with stationary, rotating, or oscillating dies. An upgrade to fully automatic profiling (APB) air rings is also available.
Company says the redesigned MPB will now provide the exact balance of volume and velocity required to accommodate the widest range of polymers, and during operation the system delivers segmented airflow to calculated circumferential area to assure the highest level of operational reliability with manual manipulation. Ease of operation is also reported in this universal air ring that is manufactured completely from aircraft-grade aluminum components.
This email address is being protected from spambots. You need JavaScript enabled to view it.