Published: January 31, 2005, By Stanley Sacharow, Contributing Editor
Flexible Packaging
Located almost midway between Madrid and Barcelona in Zaragoza, Spain, Polibol is one of the "jewels" in the expanded Alcan family of flexible packaging converters.
Founded in 1961 as Polibol Industries by the Gonzalez family, the company was acquired from Soplaril by Pechiney in 2001 and finally by Alcan in 2003. Today, Jean-Jacques Nardi is the new plant manager.
The plant is among the most vibrant of the flex-pack converting plants in Europe with sales of US $31 million in 2004.
In an exclusive PFFC visit with Alberto Gonzalez, a member of the founding family, he told me "our strategic location in Zaragoza allows for easy access to all the major European markets. That's why more than 60 percent of our production is slated for export markets."
The spotless plant is organized for ease in handling both incoming and finished stock. There are two rotogravure presses (Cerutti and Rotomec). These are both 9-color machines with maximum widths to 1,400 mm. They can produce in-line lamination and apply both varnishes and cold seals.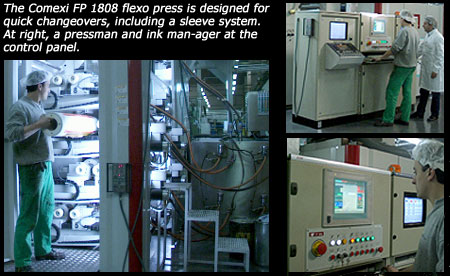 Four Comexi central impression flexographic presses (including an FP 1808 installed in September 2003) print up to eight colors with widths to 1,200 mm. These machines also are used for varnish applications.
There appears to be an excellent relationship between Comexi and Polibol on both a technical and marketing basis. This ensures close press control and state-of-the-art maintenance.
Innovative Laminates
Lamination is accomplished with three laminators—Comexi SC (solventless), Valmet (now part of Bobst Group) (with/without solvents), and a recently installed, internally designed, solventless laminator. Widths to 1,400 mm are possible with 1–3 layers including cold seal.
There are seven slitters, including Euromac and Comexi machines.
Customers include a veritable "who's who" of European users including Procter and Gamble, Unilever, Cadbury, and Nestlé. Domestic clients include Fiesta (confections), Garcia (cheese), and Gallina Blanca (dry soups).
Laminates produced include PET/adhesive/foil/adhesive/PE, various peel-seal using PET and new barrier films.
Production manager Miguel Garcia noted, "We expect to produce more complex materials that are value-added, that is, barrier films and peelable materials, because of marketplace demands. Our multinational clients now can look to us for all their complex products." Target markets include confections, pasta, biscuits, and cheese.
The plant is ISO 9002 compliant and AIB satisfactory. A growing volume now is produced for the chemical, agriculture, and cosmetic industries.
---
---
Consolidation in Spain
The Spanish flexible converting market still is highly fragmented with more than 30 various-sized converters. In recent years, there has been considerable consolidation with Amcor Flexibles Europe and Pechiney emerging as top players in the $750 million Spanish flex-pack market.
A significant number of Spanish converters also have strong export markets in North Africa, the Middle East, and South America. The largest converter in Spain is the Spanish-owned Armendo Alvarez Group with about 20% of the markets. They deal primarily with PE extruded film.
---
---
CONVERTER INFO:
Alcan Packaging Zaragoza
Poligono De Malpica Calle E
Parcela 68, 50016 Zaragoza, Spain
+34-976-46-5959; alcan.com
SUPPLIER INFO:
Comexi—comexi.com
Cerutti Group—cerutti.com
Rotomec (a member of the Bobst Group)—bobstgroup.com
Bobst Group—bobstgroup.com
Euromac—euromacslitters.com
---
---
Stanley Sacharow has been in the flexible packaging industry for more than 35 years. His company, The Packaging Group, is an organizer of targeted conferences and a consultant to the international packaging/converting industry. Stan is also the author of PFFC's "Package Converting" column. Contact him at 732/636-0885; e-mail: This email address is being protected from spambots. You need JavaScript enabled to view it..
---