December 11, 2012
PAWCATUCK, CT | Growing film manufacturer Softfilm of São Paulo, Brazil, is adding a third Davis-Standard line to support the company's stretch and melt embossed film business. Softfilm purchased its first Davis-Standard line in 2009, when the company first opened, and a second line in 2010. The new line, to be installed in late 2012, will be designed for producing diaper film backsheet and coated nonwovens. The line features an unwind as well as a unique embossing unit to support production of a softer end product.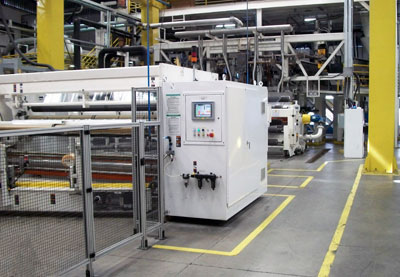 Growing film manufacturer Softfilm is adding a third Davis-Standard line to support the company's stretch and melt embossed film business.
"Davis-Standard's service is very good and that's why we're a return customer. We like their way of thinking and doing business. We feel like we're working with family," said Alberto Beda, president of Softfilm. "This line will be beneficial in supporting our customers throughout South America. As our business develops, we plan to add additional Davis-Standard lines. Our diaper and stretch film business are both doing well and we anticipate continued growth."
Softfilm is new to the Brazilian filmmaking scene, having only been in business for just over two years. According to Beda, they have experienced much success due to their personalized customer approach and excellent technology. Davis-Standard's equipment has been instrumental in helping Softfilm achieve their production goals.
Davis-Standard can build lines for stretch wrap and melt embossed film at all levels of sophistication and sizes. Complete process specific lines are available in standard or custom form ranging from resin supply through automatic finished roll removal. Flat film processing is offered with a vacuum box or air knife, and melt embossed film processing is available with wet or dry embossing methods. In-line slitting as well as a range of film winders and transfer systems can be customized based on specific needs and application. Lines include integrated control solutions that tie subcomponents together for seamless architecture and ease of operation.