Published: May 30, 2013
NORTH KINGSTOWN, RI | Toray Plastics (America), celebrated the launch of new US$15 million coating equipment at a ribbon-cutting ceremony on May 2 on the company's 70-acre campus in North Kingstown. Reportedly, the new technology will enable the company to meet global customer demand for industrial and packaging films made with advanced specialty layers.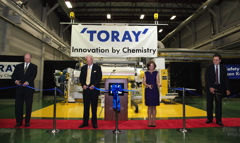 Toray's president and CEO Rick Schloesser told the audience that the US$15 million investment in the new coating equipment completes the first phase of the company's advanced technology integration plan, which is part of its global growth strategy. He also spoke of Toray's dedication to the Rhode Island community, saying the expansion has already added 12 new people to its ranks of 600-plus employees. Toray expects that its investment will ultimately create 20 jobs.
In his remarks, Governor Lincoln D. Chafee referred to "a great day for Rhode Island as one of our largest employers continues to grow its business footprint."
Senate President M. Teresa Paiva Weed said, "The new equipment is about Toray's meeting customer demand better and maintaining its edge in an extremely competitive market. It's a wise business investment. For Rhode Islanders, it represents a continued investment in our state by a valued employer. It further demonstrates the continued growth and economic vitality of Toray, a valued partner in our economic development efforts."
This email address is being protected from spambots. You need JavaScript enabled to view it.