Published: July 30, 2013
FARMINGDALE, NY | Tapeswitch Corp. is a manufacturer of several lines of TS model number safety edges for emergency stop and sensing applications.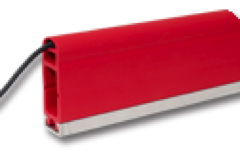 Safety edges for emergency stops are available in various standard TS models in different profiles, (low TS-6, 8, 16, 18), medium (TS-26, 26, 48), and high (TS-47, 57, 67,), front and side actuations (TS-26, TS-46, TS-48), curved or formed (Flexion), actuation forces, and colors.
Company says the switching elements offer millions of actuations at any point for reliability, durability, and a long product life cycle. In addition to standard models, company custom manufactures to length, to color, and to lead type and multiple edge assemblies.
This email address is being protected from spambots. You need JavaScript enabled to view it.